The Usha Subrahmanyam Memorial Lecture
The Deccan plateau of peninsular India witnessed an unparalleled efflorescence in sacred Hindu and Jain architecture and art in the medieval age. Temples dedicated to Brahmanical deities and Jain saviors testify to the remarkable skills of the architects, masons, and sculptors responsible for these spectacular monuments. This lecture focuses on the greatest religious monuments of this tradition, from the 8th-century Chalukya temples at Pattadakal to those built by the 12th-century Hoysala rulers at Halebid and Belur. Illustrated with glorious images from his book, Temples of Deccan India: Hindu and Jain, 7th to 13th Centuries, scholar George Michell discusses temples still in active worship as well as more remote sites rarely visited by travelers.
This lecture was made possible by the family of Usha Subrahmanyam.
Speaker(s)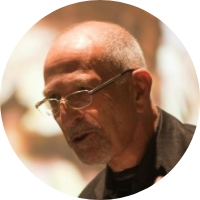 George Michell
George Michell is a world authority on South Asian architecture, and a founder-trustee of the Deccan Heritage Foundation. He is amongst the most distinguished architectural scholars alive today.
Born in Australia, he received a Bachelor of Architecture degree from The University of Melbourne in 1968. After receiving his PhD from the School of Oriental and African Studies (SOAS), University of London — publishing a thesis on the architecture of ancient Chalukya temples around Badami in Karnataka — he made the study of Deccani architecture and archaeology his life's work. He has spent over 30 years researching and cataloguing the enormous ruined city of Hampi Vijayanagara, among many other historical sites in the region, and has published over 50 books.
George lives in London with his partner and splits his time between research trips to the Deccan and writing about its ancient architecture, at home.
Lectures within the series