Of Carpets and Kalamkaris: The Deccan and its Textile Trade Connections
In the 17th and 18th centuries, the Deccan produced luxury textiles that were sought around the world. This lecture will trace the evolution of the design and manufacture of these textiles from their courtly origins to their later iterations for the East Asian and European markets, looking in particular at kalamkaris and carpets whose design and structure were unique to the Deccan. These textiles' journey to far-flung ports will also be traced, as these goods traveled alongside diamonds, steel, manuscripts and human cargo, as evidence for yet another aspect of the Deccan's many international connections.
This is the Deccan Heritage Foundation, India, Mirella Petteni Haggiag Annual Lecture.
Speaker(s)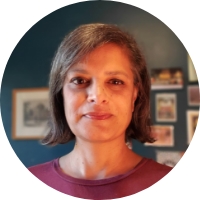 Marika Sardar
Marika Sardar spent six years at Metropolitan Museum of Art prior to joining The San Diego Museum of Art as Associate Curator for Southern Asian and Islamic Art in 2013. Sardar's research includes the fields of architecture, archaeology, painting, and textiles, with several publications and a major exhibition on the artistic traditions of the Deccan region of India. She is currently working on an exhibition and catalogue of narrative painting drawn from the Edwin Binney 3rd Collection at the San Diego Museum of Art, Epic Tales from Ancient India. Sardar is a graduate of the Institute of Fine Arts, NYU (Ph.D., 2007).
Venue
Jnanapravaha
Queen's Mansion, 3rd floor,
Ghanshyam Talwatkar Marg,
Fort, Mumbai – 400 001
Ph: 022 2207 2974/ 75