The Global Muṣḥaf: Visual Identity, Trans-Regionalism, and Eclecticism in Manuscripts of the Qur'an after 1400
18 January 2019
Codicological investigations have challenged the study of Qur'anic manuscripts (muṣḥaf, pl. maṣaḥif in Arabic) as works created in specific cultural contexts. This methodological approach, however, has also opened new avenues of research and encouraged the understanding of the transcribed Holy Text as a whole and its role and position within a global, albeit complex, production and consumption system.
Through both codicological examination and art historical mise en perspective, this lecture investigates the materiality of Qur'anic manuscripts in the fifteenth century. From the Mediterranean world to the Indian subcontinent, these volumes both emulated earlier models and developed new and original visual presentations. Innumerable copies were commissioned by members of the elite across the Islamic world. They were acquired and collected for the finest libraries and treasuries as well as exchanged as gifts and booty. Thus, they were in constant circulation, resulting in the emergence of a "global" aesthetic language for the Qur'an.
Speaker(s)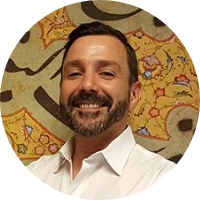 Dr Simon Rettig
Dr Simon Rettig is Assistant Curator of the Arts of the Islamic World at the Freer Gallery of Art and Arthur M. Sackler Gallery, Smithsonian Institution in Washington DC. He received his MA and Doctorate from the Université de Provence, France. He curated the exhibition Nasta'liq: The Genius of Persian Calligraphy at the Arthur M. Sackler Gallery (2014), and was the co-curator with Massumeh Farhad of The art of the Qur'an: Treasures from the Museum of Turkish and Islamic Arts (2016). His latest exhibition was The Prince and the Shah: Royal Portraits from Qajar Iran (2018).
Venue
Kalakriti Art Gallery,
Plot No. 468, Road Number 10,
Ghaffar Khan Colony,
Banjara Hills, Hyderabad, Telangana – 500034