Lepakshi: Architecture, Sculpture, Painting
8 February 2019
It is this monument, with its magnificent carvings and celebrated ceiling paintings, that will be the subject of Dr. George Michell's illustrated lecture. This will showcase Lepakshi as one of the finest, best preserved examples of Vijayanagara Art.
Dr George Michell speaks (from his book co-authored with Prof. Anna L. Dallapiccola, and published in early 2019)
Speaker(s)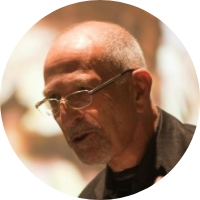 George Michell
Dr George Michell trained as an architect and then studied Indian archaeology and art at the School of Oriental and African Studies, University London.  During the 1980s and 1990s, together with Dr John M. Fritz and a team of volunteer students, he conducted an extensive survey of the ruins of Hampi Vijayanagara.
George is an independent scholar based mostly in London. Over the years he has published extensively, beginning with The Hindu Temple: An Introduction to its Meaning and Forms (1977). His most recent works are Late Temple Architecture of India, 15th to 19th Centuries (2015), and, with Dr. Helen Philon, Islamic Architecture of Deccan India (2018).
Venue
8th February, 2019, 6 PM (Tea will be served at 5:20 PM)
National Gallery of Modern Art,
Manikyavelu Mansion,
Palace Road, Bangalore – 560052