Art and Architecture of the Badami Chalukyas
27 November 2020
Dating from the 6th–8th centuries, the Hindu and Jain temples of the Chalukyas of Badami, in the heartland of the Deccan, are unrivalled in India for their comparatively early date and unusually complete condition.
Chalukya temples are of outstanding interest for their transition from rock-cut techniques, as in the cave-temples at Badami and Aihole, to structural building, as at Mahakuta and Pattadakal. These sites are unique for their mingling of architectural styles, with southern Indian and northern Indian monuments being built next to each other. Furthermore, Chalukya temples are embellished with a rich repertory of figural and decorative carvings that are among the highlights of Deccan sculptural art.
All these features will be illustrated and discussed in this webinar by George Michell, who began his documentation of the Chalukya monuments no less than 50 years ago.
Watch the video below.
Speaker(s)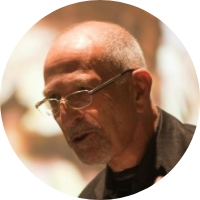 George Michell
George Michell obtained his PhD from the School of Oriental and African Studies, University of London, for his dissertation on early-Chalukya temple architecture. Since then his research has ranged from surveys of town planning and Islamic buildings to studies of Hindu temple architecture and sculpture. During the 1980s and 1990s, he and Dr. John M. Fritz co-directed an extensive survey of Hampi-Vijayanagara.
Among his many publications are: The Royal Palaces of India, Hindu Art and Architecture, The Great Temple at Thanjavur, Mughal Architecture and Gardens, Late Temple Architecture of India, 15th to 19th Centuries, and, together with Helen Philon, Islamic Architecture of Deccan India.