Rocks From a Brush: Artistic Encounters with Deccani Rocks, Hills and Landscapes
14 May 2021
India's Deccan plateau contains ancient and dramatic rock formations, distinctive landscape features and open vistas. These settings had a transformative effect on Mughal painters trained in naturalistic observation, particularly in the northern Deccan where they were first encountered. But Deccani painters too had responded to their remarkable environment in unique styles and expressions that interwove idealised landscapes with real ones. This talk explores a variety of artistic encounters with Deccani rocks, mountains and landscapes through the brush of the painter. It is an expansion of an earlier discussion in the series "I Am Here To Wonder," related to the upcoming film: Other Kohinoors, The Rocks of Hyderabad.
Speaker(s)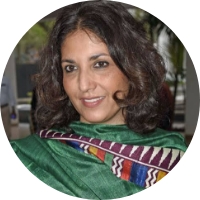 Navina Najat Haidar
Navina Najat Haidar received her doctorate from the University of Oxford's Oriental Institute. She presently serves as Nasser Sabah al-Ahmad al-Sabah Curator in Charge of the Department of Islamic Art at the Metropolitan Museum of Art. At the Met, she was involved in the planning of the Museum's permanent Islamic galleries and has curated a number of special exhibitions, including Sultans of Deccan India, 1500-1700, Opulence and Fantasy (2015); Treasures from India; Jewels from the Al-Thani Collection (2014); and Divine Pleasures: Rajput Painting from the Kronos Collection (2016).
Navina is planning a future exhibition on the art of the Jahangir period. She is concurrently working on a book on Mughal architecture and is involved in several independent educational, conservation and creative initiatives in the Middle East and India.