Jaina Temple Architecture of Coastal Karnataka: Climatic Dependencies and Artistic Freedoms
21 April 2021
The Deccan high plateau is characterised by a hot and dry climate with little rainfall and the availability of hard stone for building projects. On the west coast, the raised lands of the Karnataka uplands descend steeply to a narrow fertile coastal belt, drenched by regular and persistent rains with plenty of forested areas and wood for building. The architecture of both regions has strongly been adapted to the local climatic situation and the availability of construction materials. While stone predominates on the high plateau and temples tend to have reasonably flat roofs, along the West coast of Karnataka, buildings are traditionally largely made of wood with often multiple, steep and widely projecting roofs.
This lecture explores the interplay between climate and resource dependency and the freedoms which master architects and artisans working for the local Jaina community were able to discover and develop even within these strongly predetermined circumstances.
Watch the video below.
Speaker(s)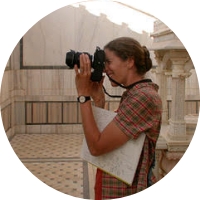 Julia AB Hegewald
Julia AB Hegewald graduated from the School of Oriental and African Studies, University of London, from where she also obtained her PhD. She is now Professor and Head of the Department of Asian and Islamic Art History at the University of Bonn. Between 2002 and 2014, she was Director of the Emmy Noether Research Project on Jainism in Karnataka. Besides other book publications, she is the author of Water Architecture in South Asia: A Study of Types, Developments and Meanings (2002); Jaina Temple Architecture in India: The Development of a Distinct Language in Space and Ritual (2009; reprint 2018); Jaina Tradition of the Deccan: Shravanabelagola, Mudabidri, Karkala (2021); and editor of The Jaina Heritage: Distinction, Decline and Resilience (2011).