Dressing in the Deccan: Clothing and Identity at the Courts of Central India
25 June 2021
In the complex political landscape of the Deccan in the sixteenth and seventeenth centuries, portraits did more than simply convey a likeness of the sitter. They were produced at the court but then were disseminated to different markets and were exchanged during the course of diplomacy. Therefore, they served to also convey important aspects of the subject's ethnic identity, political affiliation,  and cultural aspirations. This talk will examine a selection of Deccani portraits to see how the figures' dress served to reinforce those images.
Watch the video below.
Speaker(s)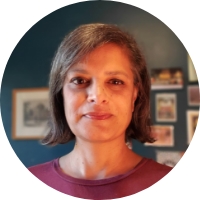 Marika Sardar
Marika Sardar is Curator at the Aga Khan Museum, having previously worked at the Museum of Islamic Art in Doha, Qatar; the San Diego Museum of Art; and the Metropolitan Museum of Art. Major exhibitions include Interwoven Globe (2013), focusing on the worldwide textile trade from the sixteenth–eighteenth centuries; Sultans of Deccan India, 1500-1750 (2015), examining the artistic traditions of the Muslim sultanates of central India; and Epic Tales from Ancient India (2016), looking at narrative traditions and the illustration of texts from South Asia.