Monumental Jinas and Networks of Prestige: Jain Temples of the Hoysala Capital
22 October 2021
The capital of the Hoysala dynasty (c. 1000–1346 CE), in present-day Halebidu, Karnataka, is best known for its elaborate sculptural Hoysaleswara temple, dedicated to Shiva. Yet the Hoysala-period city (then called Dorasamudra) was home to numerous temples serving multiple religious communities. Dorasamudra's Jain temples were among the most prominent in the city, attracting elite patronage, artistic innovation, and royal attention. The Parshvanatha temple, dedicated in 1133, was especially significant, occupying a central location within the capital and boasting a monumentally sized devotional image suggestive of connections to Shravanabelagola, South India's preeminent site of Jain pilgrimage.
In this talk, Dr Kasdorf will look to the Parshvanatha temple, its inscriptions, and other Jain material from Dorasamudra — including two more monumental Jinas — to explore the role of Jain temples in the Hoysala capital and the prestigious networks in which they participated.
View the video below.
Speaker(s)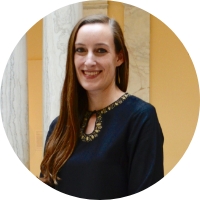 Katherine E Kasdorf
Katherine E Kasdorf is Associate Curator of Arts of Asia and the Islamic World at the Detroit Institute of Arts (DIA). She received her PhD in South Asian art history from Columbia University in 2013, completing a dissertation on temples of the Hoysala capital in Halebidu, Karnataka. At the DIA, she collaborated with colleagues on the reinstallation of the Asian collection, opening new galleries in November 2018. Prior to joining the DIA in 2017, she held a Wieler-Mellon Postdoctoral Curatorial Fellowship at the Walters Art Museum (Baltimore). She has published articles on architectural reuse in Hindu and Islamic contexts in the Deccan, and on works of Tibetan art at the Walters Art Museum. Current projects include research related to the DIA's South Indian yogini sculpture and publications on Hoysala-period (c. twelfth–thirteenth century) temples.