Fragrant Stories: The Buddhist Landscape of the Early Deccan
19 November 2021
This talk will explore the earliest recorded cultural landscape of the Deccan, that of monastic Buddhism, which prospered from around the second century BCE through to the mid-first millennium CE.
The Buddhist Deccan has left a rich archaeological and artistic legacy, which when read alongside the canonical and narrative literature of early Buddhism, paints a vision of a colourful and fragrant world where the monastery served not only as a sanctuary for mendicants, but also as a place of beauty and quietude intended to attract lay followers. Both the literature and art is rich in sensory imagery, in apparent contradiction of the vouched goals of asceticism and denial at the heart of the Buddha's teachings. Was this imagery simply a literary and visual foil against which to set the challenges of the Buddhist quest, or did it represent a more profound ambivalence in the reality of early lived Buddhist – one where economic viability was dependent on the support of a prosperous lay community, attracted to a more worldly vision of a Buddhist paradise?
Speaker(s)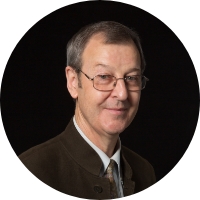 John Guy
John Guy is the Senior Curator of the Arts of South and Southeast Asia at The Metropolitan Museum of Art, New York, and an elected Fellow of the Society of Antiquaries London (2003) and the American Academy of Arts and Sciences (2016). He has curated numerous international art exhibitions and published widely, including Oriental Trade Ceramics in South-East Asia. Ninth to Sixteenth Centuries (OUP 1986), Ceramic Traditions of South-East Asia (OUP 1989), Indian Art and Connoisseurship (1995), South East Asia and China: Art, Commerce and Interaction (ed. 1996), Woven Cargoes. Indian Textiles in the East (1998), Indian Temple Sculpture (2007), Wonder of the Age. Master Painters of India (co-author 2011), Interwoven Globe. The Worldwide Textile Trade (co-author 2013), Lost Kingdoms. Hindu-Buddhist Sculpture of Early Southeast Asia (2014), Art & Independence. Y.G. Srimati and the Indian Style (2019) and most recently, Tree & Serpent. Early Buddhist Art of Southern India (2023), to accompany a major exhibition at The Met, July to November, 2023.