A Victory Tower Built by a Slave: The Chand Minar at Daulatabad
12 November 2021
The Chand Minar (1446) at Daulatabad Fort is one of the tallest pre-modern stone minarets in the world and has long been recognised as a major work of Indo-Islamic architecture. Yet surprisingly little is known about the building: its iconography and the reason for its construction have not been established; even its height is frequently misreported by half in existing scholarship.
This talk analyses the building's architecture and urban context and critically reads its inscriptions against the Tarikh-i Firishta (c. 1610), the main primary text for the history of the medieval Deccan. In so doing, the speaker demonstrates that the Chand Minar was commissioned by an African military slave to impress upon the then-reigning sultan, ʿAlaʾ al-Din Ahmad II (r. 1436–58), the value of retaining in his court dark-skinned officers from India and Africa (dakkaniyan) at a time when their standing was threatened by the lighter-skinned ghariban, who had immigrated from the Western Islamic regions. The lecture thus presents a detailed study of an important but neglected monument while shedding new light on racial factionalism in the fifteenth-century Deccan.
View the video below.
Speaker(s)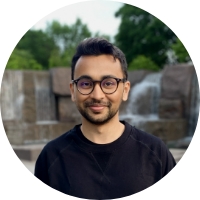 Mohit Manohar
Speaker
Mohit Manohar is an Andrew W. Mellon Fellow at the Center for Advanced Study in the Visual Arts and a PhD Candidate in the History of Art department at Yale University. His dissertation, The City of Gods and Fortune, analyses the architectural and urban history of Daulatabad between the thirteenth and the fifteenth centuries. Mohit's research has appeared in Muqarnas and catalogs from the Yale Center for British Art and the Indian Institute of Contemporary Arts, Mumbai. His public-facing scholarship has appeared in Live History India. Mohit also writes fiction and his short stories have appeared in Best Debut Short Stories, Nimrod, and The Los Angeles Review, among other venues.
Article Citation and DOI – Mohit Manohar, "A Victory Tower Built by a Slave: The Chand Minar at Daulatabad in Deccan India," Muqarnas 38 (2021): 35–76, https://doi.org/10.1163/22118993-0038….