Translating the New Taste: Rasa, Movement and Multilingualism in Ibrahim Adil Shah II's Kitāb-i-nauras
21 October 2022
Around the year 1600, Ibrahim Adil Shah II, the king of the Bijapur Sultanate, composed a book of songs titled Kitāb-i nauras (The New Book). Due to its extensive number of manuscript copies — including one by the well-traveled scribe Khalilullah Butshikan — and inclusion of verses in praise of Ganesha, Shiva, and Saraswati, the book is one of the best-known examples of literature in the regional language, Dakkani.
While prior scholarship has focused on luxury manuscripts of the text that traveled, in this presentation, the speaker shifts to the contents of the songs. In contrast to suggestions that Ibrahim's inclusion of verses in praise of Hindu deities and use of Indian themes reflect his particular political tolerance or personal religious convictions, she argues that the text's innovations lie in the realm of poetics rather than religion. Through an analysis of several of the oldest extant manuscripts of the Kitāb-i nauras, she will demonstrate how its author oriented the work towards a readership familiar with Persian literary models and conventions, even as he incorporated tropes drawn from an Indian context.
View the video below.
Speaker(s)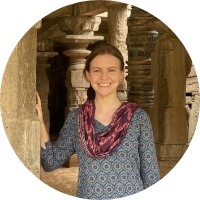 Zoë Woodbury High is a PhD Candidate in the Department of South Asian Languages and Civilizations at the University of Chicago. Her research focuses on the cultural history of ... Read More