Cloth that Changed the World: Histories and Contemporaneity of Kalamkari Making
8 April 2022
This talk will consider the printed and painted cottons — often known as kalamkari — made in the Deccan, and coastal Southeast India, in the past and in the present. The first speaker, Sarah Fee, will present a recent exhibition at the Royal Ontario Museum, The Cloth that Changed the World: India's Painted and Printed Cottons, that featured numerous examples of these uniquely coloured and intricately patterned cloths made in coastal Andhra Pradesh, including a formerly unknown set of monumental seventeenth-century hangings likely made for a Nayaka ruler and palace.
The second speaker, Rajarshi Sengupta, will consider the modern artistry in the making of this storied cloth. Though the initiatives of the All India Handicrafts Board (AIHB) and Weavers' Service Centre since the 1950s stressed the identification of printed kalamkari separately from the painted ones, master-artisan Nageswara Rao of Polavaram experimented with combining these two techniques as seen in the historic kalamkaris. Nageswara Rao produced a set of large hangings combining printing and painting, possibly during the preparations of the Festival of India in Britain (1982). Mostly religious in theme, they stand strikingly different from the hangings produced in the temple town of Srikalahasti. The identification of the printed and painted kalamkaris with specific regions reduces the scopes of such experimentations in the artisanal workshops, erasing the memories of these connected practices. As a result, a critical assessment of Rao's enigmatic hangings is absent in the scholarship.
View the video below.
Speaker(s)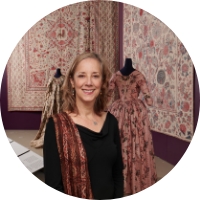 Sarah Fee
Sarah Fee is Senior Curator of Global Fashion and Textiles at the Royal Ontario Museum and teaches in the Art History Department of the University of Toronto. She holds graduate degrees in anthropology and African studies from Oxford University and INALCO, Paris. Her research and publications focus on textile making, gifting and trading in Madagascar and the wider western Indian Ocean world. In 2020 she was lead curator of the exhibition, Cloth that Changed the World. The Art and Fashion of Indian Chintz and edited the companion publication (2020, ROM-Yale University Press).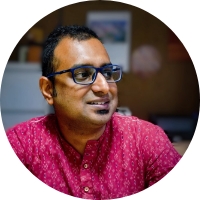 Rajarshi Sengupta
Rajarshi Sengupta is a practitioner and art historian, presently teaching at the Dept. of Humanities and Social Sciences, Indian Institute of Technology (IIT) Kanpur, India (2021-). Sengupta completed his PhD in art history from the University of British Columbia, Vancouver (2019), and received the IARTS Textiles of India Grant, Royal Ontario Museum, Toronto (2017-18). He contributed to the catalogue essay of Cloth that Changed the World: The Art and Fashion of Indian Chitnz, edited by Dr. Sarah Fee, and is presently working on an edited book on Deccani material culture with Dr Baishali Ghosh.
Map