A Look at Vijayanagara's First Great Photographer: Alexander Greenlaw – By George Michell
The extensive photographic coverage of Hampi, a town in Karnataka with numerous ruined temple complexes from the Vijayanagara Empire, by Alexander Greenlaw, came to light in the 1980s. A British Colonel stationed in Bellary during the 1850s, Greenlaw recorded the monuments and landscape of the ruined city in a series of more than 60 epic images. Dated to 1856, these constitute the earliest, most comprehensive documentation of Hampi, Vijayanagara. Furthermore, they are also considered masterpieces of early topographic photography, comparable to what was being done in Egypt and Greece merely one or two years before. In this talk, Dr. George Michell will take audiences through a selection of Greenlaw's images that were transferred from original negatives to modern prints; and what learnings they make possible – as historical record, archival evidence and photographic masterpieces.
Speaker(s)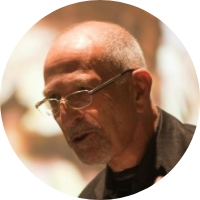 George Michell
George Michell is a world authority on South Asian architecture, and a founder-trustee of the Deccan Heritage Foundation. He is amongst the most distinguished architectural scholars alive today.
Born in Australia, he received a Bachelor of Architecture degree from The University of Melbourne in 1968. After receiving his PhD from the School of Oriental and African Studies (SOAS), University of London — publishing a thesis on the architecture of ancient Chalukya temples around Badami in Karnataka — he made the study of Deccani architecture and archaeology his life's work. He has spent over 30 years researching and cataloguing the enormous ruined city of Hampi Vijayanagara, among many other historical sites in the region, and has published over 50 books.
George lives in London with his partner and splits his time between research trips to the Deccan and writing about its ancient architecture, at home.
Venue
The Museum of Art & Photography (MAP), Bengaluru