Temples of Medieval Deccan India
The Deccan plateau of peninsular India witnessed an unparalleled efflorescence in sacred Hindu and Jain art and architecture in the medieval age. Temples dedicated to Brahmanical deities and Jain saviors testify to the remarkable skills of the architects, masons, and sculptors responsible for these spectacular monuments. This lecture focussed on the greatest religious monuments of this tradition, from the eighth-century Chalukya temples at Pattadakal to those built by the twelfth-century Hoysala rulers at Halebid and Belur.
Illustrated with glorious images from his book, Temples of Deccan India: Hindu and Jain, 7th to 13th Centuries, scholar George Michell (Founder-Trustee, the DHF) discussed temples still in active worship as well as more remote sites rarely visited by travellers. The lecture was followed by a book-signing in the Uris Education Corridor.
Speaker(s)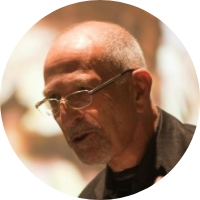 George Michell
George Michell obtained his PhD from the School of Oriental and African Studies, University of London, for his dissertation on early-Chalukya temple architecture. Since then his research has ranged from surveys of town planning and Islamic buildings to studies of Hindu temple architecture and sculpture. During the 1980s and 1990s, he and Dr. John M. Fritz co-directed an extensive survey of Hampi-Vijayanagara. Among his many publications are: The Royal Palaces of India, Hindu Art and Architecture, The Great Temple at Thanjavur, Mughal Architecture and Gardens, Late Temple Architecture of India, 15th to 19th Centuries, and, together with Helen Philon, Islamic Architecture of Deccan India.
Venue
The Bonnie J Sacerdote Lecture Hall,
The Metropolitan Museum of Art,
1000 Fifth Avenue,
New York, NY (Entry from the Fifth Avenue and Eighty-first Street Entrance)